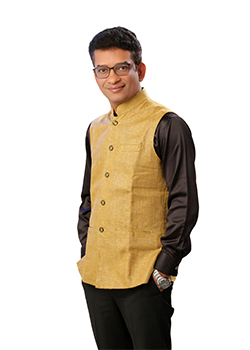 A Chartered Accountant by profession with specialisation in Information System Audits, running his own firm in name of ASAP, LLP and an author, coach, trainer, mentor & motivational speaker by passion. Mr Pritam Goswami is certified Master Practitioner NLP Coach from the co-founder of NLP – Mr Richard Bandler approved by The American Board of Neuro Linguistic Programming and The International Hypnosis Association.
He is the founder Director of Global Research for Excellence in Education Singapore and Nuvis Coach – a training company offering NLP Certification & trainings. He has authored books namely Sunrise Within You, Jaago Jano Aur Jeeto and The Millionaire Mindset. Pritam is known for his attitude of 'karam kar phal ki apeksha maat kar', a social activist, who has conferred with International Training fellowship by Junior Chamber International USA in 2010 and became 8th proud Indian trainer by being International Training Fellow. He has also been a past senior office bearer in Rotary, Kota. India's one of biggest chapter of Rotary. Pritam contribution to BNI, Kota has been iconic and is a role model. He specializes in behavioural and performance-based training solutions.
During the last 20 Years he has mentored and influenced more than 50000 individuals across the globe through his seminars, training workshops, motivational talks and counselling. He has travelled more than 25 countries for training commitments including Japan, Brazil, Belgium, Singapore, Korea, Tunisia, UAE, Srilanka, Singapore, Philippines, Bangkok, Hongkong, France, Italy, The Netherlands, Canada, Germany etc.
Let's Work Together
TELL ME MORE ABOUT YOUR PROJECT