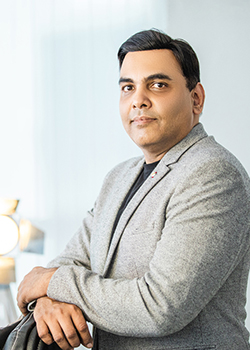 Vinay Sharma is an International NLP Practitioner & Coach certified by International Hypnosis Association L.L.C AND the American Board of Neuro Linguistic Programming (NLP). He is a Healer, Master Hypnotist and a Past life regressor, a Motivational Speaker & Corporate Behavioral Trainer based at Jaipur, India.
He is the author of Books Success Strategies decoded in English and Hindi available on Amazon, Flipkart and other online e-commerce platforms. Written with a clear aim to help people around to chart out their unique destiny, the book Success Strategies Decoded is a life manual.
He has been instrumental in the Life transformation of more than 10000 people through his personal and group coaching. Vinay offers end-to-end Training solutions to corporate Houses, Training Need analysis Interventions, and customized Training workshops, psychometric assessment, executive coaching and Post training evaluation. He Conduct the Faculty Development Workshop for Varied spectrum of Teachers, Academician, research Fellows, management and Technical Graduates, session on personality Development, Quality Refinement, Managerial and Employability Skills for Management and Technical Aspirant. He has been engaged as trainer/facilitator to a number of SMEs, family businesses, government entities, and professional and non-government organizations in India, Nepal, UAE, and Singapore.
Vinay's academic qualifications include Master in Business Administration. He is the founder Director of Pentachrome Technologies (p) Ltd. a Software Development and Skill Development Training Company. He is also Director of (Nuviscoach) a venture of  Thinkwin Learning solutions Pvt. Ltd. providing an end-to-end training Solutions and Unisys Global  an education consultant Company and career coaching.
He is passionate about Reading, photography, Music and Travelling. Vinay Sharma is certified by the Junior Chamber International as a Certified International Trainer. He has shown outstanding contribution, competence, and experience in adult learning, instructional design and development, and training and facilitation of numerous leaderships, management, topics at all levels.
Let's Work Together
TELL ME MORE ABOUT YOUR PROJECT